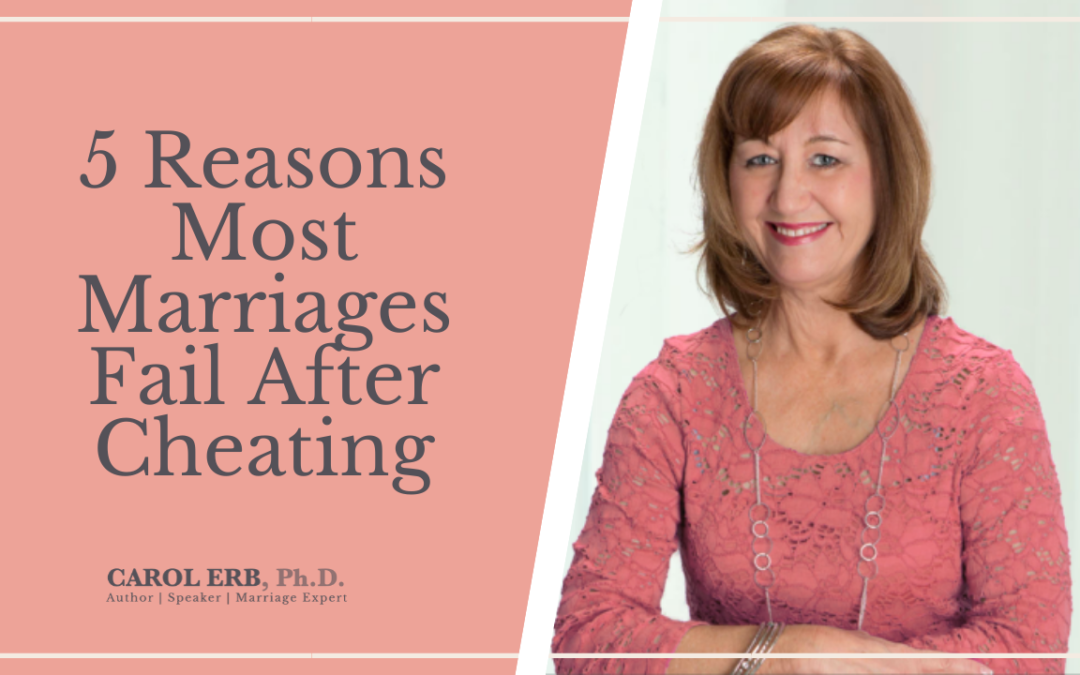 Once you've realized your spouse has cheated to you, it's difficult to think about putting the pieces of your marriage back together again. You feel absolutely shattered, and you're not really sure what you should do. Maybe you'd like to try to make it work, but it all seems so hopeless.
This is where many couples give up, and one or both of them make some major mistakes that lead to the end of the marriage. Let's talk about five reasons why most marriages fail after cheating.
MISTAKE # 1: THEY DON'T TAKE THE TIME TO HEAL
One of the things many individual do after they've discovered that their spouse has been cheating is attempt to jump right into making everything feel as normal as possible. In doing so, they're rushing through the healing process, and there is a reason why healing is a process and not something that can occur overnight. It's vital for you to work through the emotions that this betrayal has caused for you, and that means taking the necessary time to heal.
MISTAKE #2: THEY TRY AND "FIX" THEIR SPOUSE
After you've been cheated on, it's a normal response for you to try to make everything right again. Chances are, you've thought long and hard about what happened between you and your spouse what may have led to his cheating. You know exactly what needs to change, and you think you know how to change it. This never works. You can never "fix" your spouse, and any attempt to fix him may even do more damage than good.
MISTAKE #3: THEY SUCCUMB TO THEIR ANGER
Anger is a normal response once you learn about your spouse's cheating, and to some extent, expressing your anger is an important part of the healing process. However, dealing with your anger is so important and there are healthy ways for you to deal with it. When your anger gets out of control, it can actually sabotage your healing, and that's definitely not something you want to have happen.
MISTAKE #4: THEY FAIL TO TRY TO UNDERSTAND WHAT CAUSED THE CHEATING
At some point, it's important for you to try to understand the circumstances that led to your spouse's cheating. While this is certainly not something you should be expected to do right away, eventually, it will help you to know what causes them to sin sexually. Once you can work on this understanding, you'll also find that you're releasing your control over their behavior, and allowing them to be responsible for his own actions.
MISTAKE #5: THEY FAIL TO GET PROFESSIONAL HELP
Once cheating has occurred in your marriage, attempting to heal on your own is almost impossible. There are so many emotions involved, and it's difficult for you to make sense of everything that has happened. You need guidance, and it's even better if that guidance is backed by the Word of God. Getting a professional to talk with you demonstrates your willingness to work through the sin that has occurred so that you can embrace healing and move forward in your marriage.
A FINAL THOUGHT
Remember, your marriage and family legacy is your greatest asset. When you have been devastated by a cheating spouse in marriage the main thing that is on your mind is to get out of the pain. The pathway out of your pain is to avoid the five major reasons why marriages fail after cheating, while finding the right Christian coach or counselor who has the perfect step-by-step plan to move you out of your pain.
A plan that works.
Has your marriage been suffering because of a sexual betrayal? Maybe you've even made some of these mistakes, but you're not sure what else to do. A Christian Marriage Coach and Counselor can help you see things a different way, and shed God's light on a situation that otherwise seems hopeless.