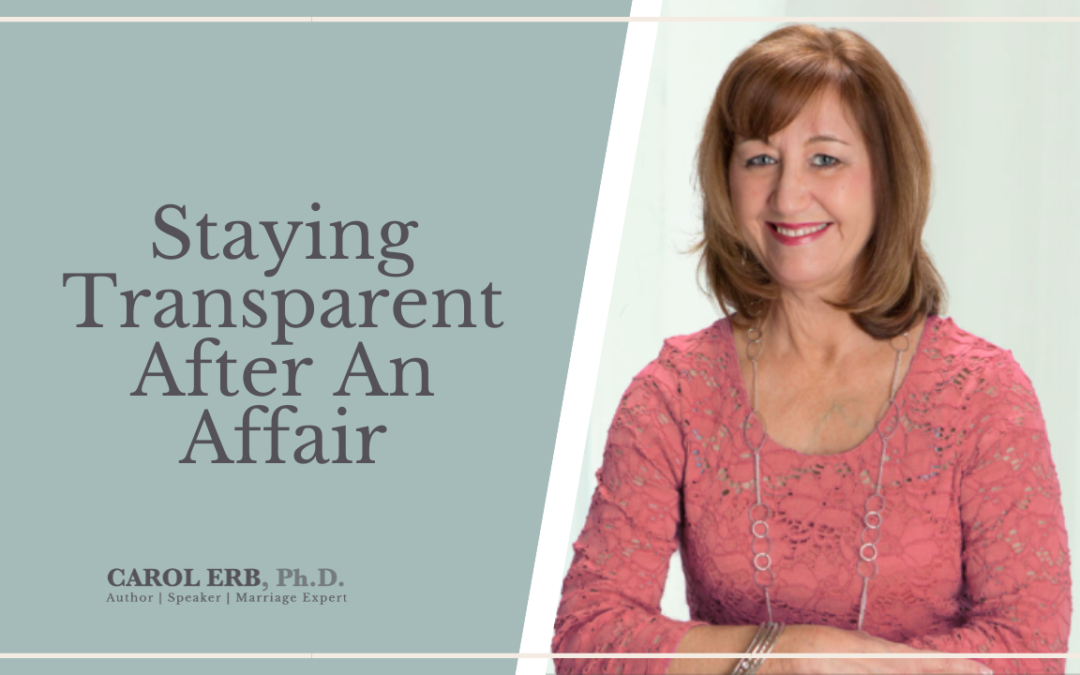 Transparency is non-negotiable after a betrayal if you intend to rebuild the trust in your marriage. You husband's staying transparent after an affair won't come naturally to him. But it's something he can work on. And, together, you can experience the beautiful changes that come into your marriage as a result.
There's a reason why Solomon wrote in Proverbs 24:26, "An honest answer is like a kiss on the lips." Once an affair has made its way into your marriage, complete and total transparency (honesty) is a major part of the "glue" that will bring you back together. Let's talk about what that looks like in more detail.
What is Transparency?
Transparency is best described by taking a look at its first appearance in the Bible; in the Garden of Eden. Genesis 2:25 says, "Adam and his wife were both naked, and they felt no shame." The ultimate form of transparency is when a husband and wife are hiding nothing. But your husband's affair was anything but transparent.  If fact your husband has become the exact opposite of that.
Being transparent means a few things:
No more lies being told.
No more secrets being kept.
No defensiveness when questions are asked.
No vague responses to questions.
No keeping any type of news from your spouse, whatsoever.
Of course, this also trickles down into every area of your lives. That means not having any secret bank accounts or social media accounts. It means sharing passwords for everything.  And never clearing the history on your phone or computer.
When a husband has spent so much time and energy hiding information, staying transparent after an affair is difficult. But that doesn't mean it isn't possible.
Providing Details Help in Staying Transparent after an Affair
As the betrayed wife, it's understandable that you have questions. You may have questions about the affair itself.  Or, you may feel suspicious and "grill" your husband after a long day at the office. This is completely normal, and there's a good reason for this behavior. You feel the way that you do because of his betrayal.
Husband, if your wife is constantly asking questions, it's because she has doubts. She doesn't feel as though she's getting all the information she needs. For you, giving your wife as many details as possible can prevent long, drawn-out interrogations. Let your wife be the judge as far as how much she wants to know, and answer all of her questions with complete and total honesty.
It's often easier for husbands to leave out details because they feel that they're protecting their wives. But this actually hurts her more than the truth ever could. Wives don't want their husbands hiding anything from them.  It's only in total transparency that forgiveness and healing can take place.
Staying Transparent After an Affair Leads to Emotional Connection
Once you have reached the place where your husband is being transparent with you, you may find that you're still disappointed. However, no matter how much he tells you, there will always be a desire to learn more. You'll never be able to make complete sense of what your husband has done. But that doesn't mean your marriage can't be healed. And, it doesn't mean that your trust can't be restored.
In 1 Corinthians 4:5, Paul says, "He will bring to light what is hidden in darkness and will expose the motives of the heart." The truth always comes to light. And when it does, amazing things happen to God's children.
Staying transparent after an affair is the best way for your husband to restore emotional intimacy with you. It allows him to connect with you on levels you may not have ever experienced before. When your husband is honest with you, he provides you with details and answers your questions. Then, God can work in your marriage. He can work in your husband too. God will provide the type of healing that only He can.
Moving From Betrayal to Healing
Right now, it may not seem as though healing is in store for you or your marriage. Even if you and your husband have decided to reconcile, the road ahead may seem long, and frankly, impossible to maneuver. It is, but only if you walk it alone.
I created From Betrayal to Healing for women like you. Unfortunately, we live in a fallen world, and affairs are much too common; even among Christians. But these resources can provide you with the support and help you need from a Biblical perspective.
The guidance you need to get through this troubling time is available. Together, we can seek God's will for your marriage and start the healing process He intends for you to experience.