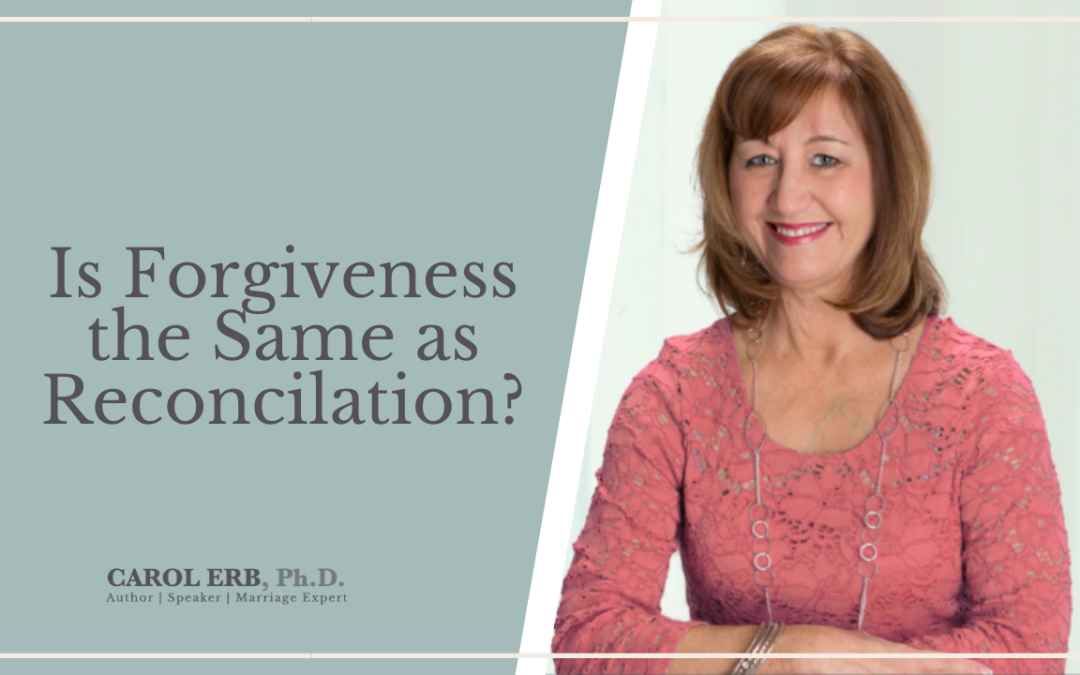 It's fairly common to hear couples say that they refuse to forgive their spouses because for them, forgiveness means that the wrong behavior is OK. I think it's important for us to remember that the world has a false idea of what forgiveness is, and in order to properly define it, we need to go back to God's Word. Is forgiveness the same as reconciliation?
In Romans 13:8, it says, "Let no debt remain outstanding, except the continuing debt to love one another."
The world believes that forgiveness isn't a necessary part of life, nor should it be a necessary part of marriage. Worldly experts are constantly advising people to hang onto their anger as a way to protect themselves from getting hurt again. However, some actually advise the opposite. They tell people who have been hurt that they can't trust their emotions, and they need to push those negative thoughts out of their minds and continually forgive, regardless of how they feel. Many experts even believe that as long as you pray, all of your resentments will be healed and gone.
As you can see, the so-called "expert" opinions on forgiveness vary so much that it's hard to know what you should believe. While some of these opinions might sound OK on the surface, they are wrong. The truth is that unforgiveness and resentment has a tendency to fester. It can and will eat at you, and eventually it will kill your love for the person you're refusing to forgive. However, forgiveness cannot be done overnight. It's a process that does take time.
In addition, it's important to understand the differences between forgiveness and reconciliation.
GRAB YOUR FREE COPY OF MY EBOOK BY CLICKING HERE AND LEARN THE 8 SUREFIRE STRATEGIES FOR RECOVERING FROM A HUSBAND'S AFFAIR
IS FORGIVENESS THE SAME AS RECONCILIATION?
Perhaps you've been holding onto some type of hurt because you don't want to be reconciled with your spouse; at least not yet. As a result, you're refusing to forgive. You don't have to reconcile with your spouse the moment you forgive him or her, and the two things are really very different.
Forgiveness is about you extending mercy and grace to the person who hurt you. Remember, mercy is when you get something you don't deserve to get, while grace is when you don't get what you do deserve. When you forgive, you're setting your offender free, and you're placing that person on God's "hook" instead on yours. You're not denying the fact that you were hurt because that would not be possible. Instead, you're giving yourself permission to feel the hurt and then you're releasing it so that it doesn't have power over you any longer. Furthermore, forgiveness only takes one person – you. Reconciliation takes two people.
THE 3 STAGES OF FORGIVENESS
Forgiveness generally happens in stages, and it's not something that can occur all at once. It's essential to go through the stages of forgiveness before you can actually forgive. Those stages are:
#1. Facing the Offense: You have to face the reality of the negative effect the offense has had on your life. You also need to realize that being treated that way is not something that's OK with you.
#2. Feeling the Offense: If you refuse to feel the pain you're in, you're actually denying that pain. Denial is not something you want to live in.
#3. Forgiving the Offender: Choosing to forgive is often the hardest thing to do, but it can also be the most rewarding, even if you never get an apology. Remember, forgiveness is not about forgetting what happened, but it is about releasing the debt of the person who caused the pain.
Are you struggling with unforgiveness? I've worked with many women over the years who were trapped by unforgiveness. If you're waging this battle, I'd like to help you find the healing you need to forgive and move on.
If you'd like to talk with a Christian marriage coach about working toward forgiveness, I'd love to help you. Please contact me at 843-379-0288. You can also contact me through my online scheduler for a free complimentary call. I'm available face to face, over the phone or via video call. When you hold onto unforgiveness, the only person who truly suffers is you. With the right kind of professional help, you can embrace forgiveness and freedom from those heavy chains.